Atari once had it's European Headquarters in Ireland just outside Limerick City, at Raheen Industrial Park. The building lay dormant after it's closure in 1985 until Dell Computer purchased it for their European Manufacturing HQ. It is known that the VCS 2600, Atari 600XL and 800XL were built here. Over 750 people had been employed by both manufacturing facilities at one time.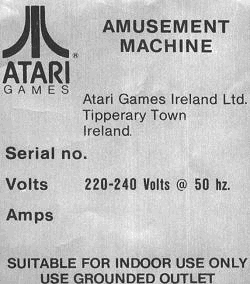 Atari also based it's European manufacturing plant for Arcade Games in Tipperary Town. The plant changed ownership to Warner Communications after the sale of Atari in 1984, and became "Atari Games Ireland Limited" (AGIL), now owned by Namco Corp.
In May 1999, Namco closed the 18 year old former Atari Games Plant in Tipperary town. Like all company closures, this matter was raised in the Irish Parliament, you can read the transcript of this discussion by clicking the icon on your left.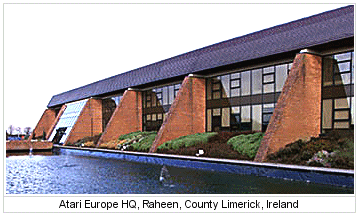 ATARI'S BACK... COST-CUTTING IS KEY TO RECOVERY
SAN JOSE MERCURY NEWS
"Christmas, 1984. The Irish massacre. Atari Corp., a name synonymous with consumer electronics, fires 250 Irish workers and permanently closes a manufacturing plant (Limerick) that has been heavily subsidized by the Irish government."