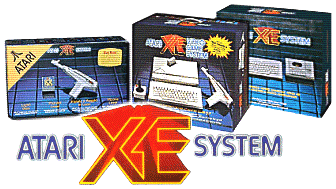 The XEGS or XE Games System was proudly displayed within a glass case at the January 1987 CES by Sam Tramiel, and unusually, it was launched in July that same year as promised.
At the CES in Chicago, the Atari Booth was topped with a real Cessna Airplane, and the theme was "flying high with Atari". Atari announced the XEGS would come bundled with Flight Simulator II and this could be played from the new 128Kb cartridge on a large screen monitor inside the cockpit of the Cessna, a nice piece of marketing by Atari which impressed the assembled crowds.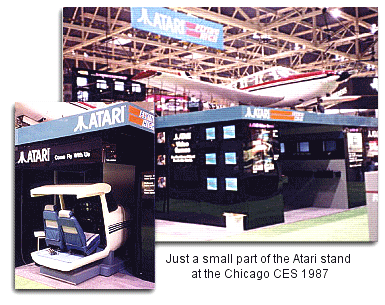 The official press release from Atari:
ATARI TO BEGIN SHIPMENTS OF NEW XE GAME SYSTEM BUNDLED WITH THREE POPULAR GAMES

Atari Corporation will include three popular cartridge games at no additional cost when it begins shipping the new XE video game system in July.

Games bundled with the XE game system are the top-selling hit Flight Simulator II, from SubLogic; the Atari classic, Missile Command; and Blast 'Em, a shooting game being specially developed for the XE. The new game system is being demonstrated in Atari's booth (6540) at the Summer Consumer Electronics Show starting today at McCormick Place.

"The XE is the ultimate game system for the serious game player," said Michael Katz, executive vice president for marketing and entertainment electronics. "It has more features and power than any other game system, and we're including $80 worth of free games with every system. No other game maker is offering anything close to it."

The XE game system features a console with 64 kilobytes of memory, an attachable game-playing keyboard, video gun, and a Joystick.

Its memory, equivalent to an 8-bit computer, is the largest in any game system. That gives it superior graphics, dramatic animation and realistic sound, and the power to run advanced computer games, Katz noted.

The cartridge for the XE game system can store over 256 Kilobytes of program, which is twice as great as any other comparable system, Katz added. Atari is also selling a disk drive for players who prefer desk- based software.

The attachable keyboard and video gun make it easy to play hundreds of sophisticated games such as Flight Simulator II, which requires keyboard interaction. The target gun is attached to the console to electronically "shoot" at images on a TV or monitor.

"The XE can play more games than any comparable system, and the library grows steadily as Atari converts disk games to cartridges, Katz said. The XE game system can play games written for the Atari XE and XL computer systems."

Atari spent a lot of time ensuring their latest (and last) 8-bit system would be the system of choice. Focus groups, input from retailers and other marketing data was used to design a system that was cost effective and upgradeable. Some retailers wanted a plain games system to sell, while others wanted Atari to continue to produce an 8-Bit computer.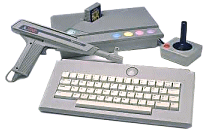 A smart compromise arose, and Atari produced a system based on the existing 65/130XE computers, ensuring compatibility across the range (as was traditional) and ensuring the system had a vast software base. You could purchase the XE Games console, and later buy an add-on pack with keyboard and cassette drive, the first 8-Bit computer in the Atari range with a detachable keyboard. A light-gun was also available.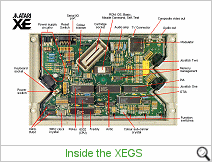 Soon after its release, Atari repackaged the XEGS with the Keyboard and light-gun as standard. In 1987, Atari completely sold out of the XEGS (along with the 7800), although actual sales figures were never released (although it was announced that Atari sold 100,000 XE computers in Poland alone in 1986).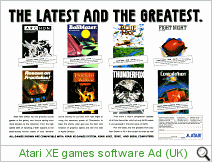 AEX has placed the XEGS in the Video Games section, but it was marketed as both a games machine and a home computer. For all intents and purposes, the XEGS is a home-computer in disguise! The XEGS was also marketed under the "XE Computer System" or just plain "XE System".